The List of Hotel Toiletries That Every Hotel Room Should Have
Date Posted:24 September 2019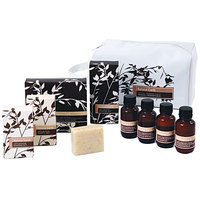 Here is a list pf toiletries that every hotel, motel, bnb or any other type of accommodation should not be without!
Here is a list of toiletries that every hotel, motel, bnb or any other type of accommodation should not be without!
High-Quality Hand Soap
High-quality hand soap is absolutely essential. Many people suffer from sensitive or dry skin that is worsened by cheap and nasty hand soaps so always make sure to provide products that cater to everyone. Natural Earth offers hand soaps made with Manuka leaf and Harakeke oil is perfect for all skin types! Even better it comes in 15gram, 20gram, 40gram and even 100gram, so there is a product in this range for everyone.
High-Quality Shampoo & Conditioner
The shampoo and conditioner you offer your guests should be high quality so even your fussiest guests will want to use them. Not to mention, low-quality shampoo can wash the dye out of freshly colored hair and cheap conditioner can leave hair feeling like straw. We sell a lot of the 300ml dispensers to the public after they have been introduced to the product while on vacation. This popular range comes in 35ml bottle, 300ml dispensers and 5 litre refill containers.
Body Wash
Always provide your guests with body wash, rather than plain old shower soap (good quality body bars are an exception) so they can feel clean, refreshed and smelling lovely after stepping out of the shower.
Face Soap
If you're looking to go the extra mile for your guests, providing face soap is a must! Face soap is great for everyone but women in particular who need to wash the makeup off their face at the end of a day.
Shower Cap
Shower caps are a must in any type of accommodation. Your guests will be expecting one and as such, won't bring their own so always make sure you are stocked up.
Bubble Bath/Bath Soak
In rooms with a bath, leave your guests a product that allows for maximum bath time enjoyment and relaxation. They will love you for it… trust us!
Order wholesale hotel toiletries of the highest quality from Bnb Supplies today! We supply products in Melbourne, Sydney, Brisbane, Perth and all over Australia.
---
Leave a comment