Use and Care of PVD Cutlery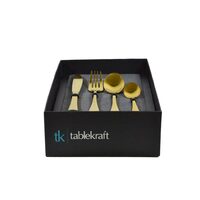 Use and Care of PVD Cutlery
The cutlery is coated in metal using the PVD method which uses vaccum deposition. It's a method of decorative surface treatment that has been used for decades in the watch and jewellery industries, and being completely food-safe, is now used on cutlery.
Production Technology: PVD = Physical Vapour Deposition. The coating is applied using vaccum deposition, PVD cutlery is dishwasher safe, however hand washing is highly recommended to protect and extend the life of your cutlery.
1. Before using your cutlery for the first time, we recommend that you wash it in hot water using a mild detergent, followed by a thorough rinse, prompt drying and wiping each piece. Do not use citrus based detergents.
2. Avoid leaving your cutlery for prolonged period or pre-soaked after use without washing. Harsh or acidic foods may cause discolouration and even corrosion. Never leave salt or food on unwashed cutlery, always rinse off.
3. If using the dishwasher, remove your cutlery at the end of the cycle and hand dry with a soft cloth. Harsh detergents and salts left undried on the surface can cause discolouration and even pittting. Be sure to follow the dishwasher manufacturer's use instructions carefully.
4. Knife blades are made of a special grade of Stainless Steel to enable a high quality cutting edge to be produced and maintained, and knife blades are particularly sensitive to staining and corrosion if exposed to acidic foods, soaking in water, and air-drying. It is especially important to quickly dry and wipe knives after washing in order to preserve the quality.
5. When hand washing, use warm water with added soap or liquid detergent and rise thoroughly. A water softner may be required if using water containing a high mineral content.
6. Do not use abrasive washing powders / cleaners or bleach for hand or machine washing, as this will corrode your cutlery.
7. Do not scour with an abrasive or corrosive pad or with wire wool.
8. Do not expose cutlery to a flame
WARNING: If you are using a low temp and/or chlorine bath type dishwashing system, take great care in following the manufacturer's instructions. Any over-concentration of sodium hypochlorite (bleach), the active sanitising agent of these systems, will attack most metal tableware. Improper use or faulty equipment functioning will cause staining or corrosion, to even the finest stainless steel.
---
Leave a comment