The History of the South Pacific Soap Co. & Our Products
Date Posted:22 February 2017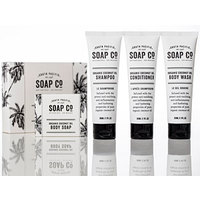 The South Pacific Soap Co. is one of New Zealand's leading guest toiletries and amenities suppliers with 50+ years' experience in the industry. We are unmatched in commercial hospitality supplies not only for the sheer volume of products we produce but
The South Pacific Soap Co. is one of New Zealand's leading guest toiletries and amenities suppliers with 50+ years' experience in the industry. We are unmatched in commercial hospitality supplies not only for the sheer volume of products we produce but the way in which we produce them.
Our passion lies in environmental conservation and sustainability. Whilst we manufacture over one million products daily, we aim to have the lowest environmental impact possible. We use biodegradable formulas and packaging and endeavor to use as many local ingredients as we can in our products, thus minimizing emissions during the importing process.
We supply our toiletries and commercial hospitality supplies to hotels, motels and airlines worldwide. We use only the best, most natural ingredients in our products which often attract high-end clients as well as clients who share our passion for quality and sustainability.
At South Pacific Soap Co. we use coconut oil in many of our products which is a sustainable alternative to palm oil. Palm oil is responsible for the destruction of rainforests and wildlife around the world. We test only on humans, not animals and many of our products are vegetarian. This is perfect for people who have sensitive skin and allergies are there are no harsh chemicals used.All of our hair care products are 100% vegetarian, bio degradable and GE free. Our cardboard boxes are 100% recycled and oxygen bleached and our bottle caps are recyclable. We have also created the first soap recycling program.
Our company has worked hard to ensure that our wholesale hospitality supplies are not only exceptional quality but that they are in line with our number one passion, keeping our planet green and our oceans free of harmful chemicals making us the best choice for your hospitality supplies!