A guide to keeping your cutlery looking its best
Date Posted:20 January 2020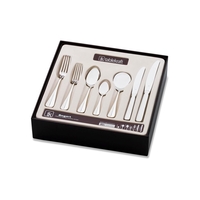 How to wash and store your cutlery to keep it looking like new for many years
Stainless Steel
Stainless steel is one of the most durable metals available with it's exceptional ability to resist stains, rust and corrosion. Contrary to popular belief, stainless steel is neither stain nor rust proof and even the finest alloy will suffer if not cared for. So please consider the following to keep your cutlery looking its best for years to come.
Prolonged exposure to foods that contain Chloride such as; mustard, table salt, eggs and jam can stain if not rinsed off immediately. Some of the minerals and salts in tap water can cause pitting and staining.
Washing
Wash in hot water and a good quality detergent. Rinse in water of at least 80 degrees celcius.If using a dishwasher, remove the basket shortly after the drying cycle and allow cutlery to air dry. Cutlery should not be left wet or in a damp place overnight. Cutlery must be completely dry before stored.
Keep silver-plated and sterling-silver cutlery separately from stainless steel - if they touch whilst they are wet, your silver may be damaged by a chemical reaction.
Dishwashing: Please do not use detergents that use hydrocholorite or have a lemon base to them. These ingredients can be highly corrosive.
Place the cutlery handles down into the basket and keep knives away from other pieces of cutlery.
Do not over crowd the compartment. This helps reduce drainage and scratching.
After the wash-cycle, dry knives with a clean, dry cloth. The steel in knives is made from a different stainless steel and is more prone to corrosion and rust marks.
Special cleaning of stains
Staining of stainless steel is a rare phenomenon that in most cases is due to something that becomes firmly deposited onto the steel, rather than to any attach of the steel itself. The most common cause of staining is attack by one of the propriety checmial dip solutions used for remaining tarnish from silver. These dips contain acids that etch the steel, ultimately etching it a dull grey. Do not use chemical dip solutions. Dip solutions can stain or even etch stainless steel knife blades.
Use a mild abrasive or metal polish to remove discolourations and revive the finish of your cutlery. Water stains can be removed by rubbing either alcohol or salad oil into the pieces. To keep the shine on your cutlery use a sponge with white vinegar.
Common markings and causes
Rust marks - Stainless Steel is rust resistant. It can receive deposits from other items in the sink of dishwasher
Rainbows - Detergents can cause this discolouration if not rinsed. Hot fat, vinegar, wine and citrus juices can cause discolouration
Chalking - The use of un-softened water or not drying cutlery properly can leave a chalky residue
Pitting - Knives are prone to pitting as the blade is hardened as part of the manufacturering process. After a period of time, salt and food acids can cause pitmarks.
---
Leave a comment