How To Prepare Your Airbnb Apartment For New Years Eve
Date Posted:31 December 2018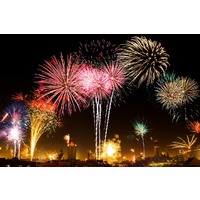 Its New Years Eve and everyone is ready to celebrate the end of a busy year. Anticipating the requirements of your guests will boost your chances of drama free hosting on New Years Eve.
The four top gripes your guests will complain about on New Years Eve are:
1) Dirty irons. Last new years eve one of our clients had five different guests call to demand a new iron. Some of the irons clearly didn't pass the grade, but a couple were only slightly marked. Guests arriving for the night of the year in their party dresses are more likely to demand a perfect iron. And who wants to be runnng around at 4pm on New Years Eve purchasing and delivering irons?
2) Not enough wine glasses. NYE guests expect sparking clean, non chipped wine and champagne glasses. And plenty of them. You will need 1 champagne glass and 1 wine glass for each guest, plus a few spares of each.
3) Unsafe balconies. Many families book apartments with views of the fireworks, but can be intimidated by the balcony when they arrive with small children. If you have a family arriving, ensure the balcony door can be key locked. And consider removing furniture from the balcony.
4) Dirty windows. If your property has views of the fireworks, spend time to ensure all of the windows are clean.
The four top things a host should do this New Years Eve are:
1) Communicate. If you have same day changeovers on New Years Day, communicate checkout time very clearly with your guests
2) Communicate. Ensure guests understand your house rules - particularly noise rules. In general neighbours are more relaxed on New Years Eve, but don't overdo it. Provide your guests clear details on what behaviour is unacceptable on New Years Eve.
3) Communicate. Be clear on your expectations on how the apartment is to be left. Most properties require guests to remove all the rubbish from the apartment, and have the dishes washed and put away. Ensure your guests know where to put the recycling. Most apartment buildings have designated places to leave recycling. Alternatively leave a box for the purpose of recycling
4) Meet your guests. Its a great opportunity to tick off points 1 to 3, and you can also ensure the guest staying is the guest who booked.
---
Leave a comment