Hotel Robes are an Essential for every Good Hotel
Date Posted:24 October 2019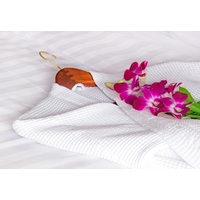 If you stay in a lot of hotels, they have a tendency to blur together, but there are many things that can make a hotel stay seem special.
One of the simplest to achieve, and often among the cheapest, is providing robes for your hotel guests.

Many budget style hotels don't offer robes, deeming them to be an unnecessary addition to the basic offering. However, for better quality hotels, a complimentary robe can make all the difference and cause your hotel to stand out from the rest.
How Hotel Robes are Changing
The traditional hotel robe was always a white terry garment that might have the hotel's logo but little else to make it stand out from any other robe. It also tended to be provided in one size since this made restocking and issuing that much easier. And since the one size had to fit any guest, it tended to be a large size that swamped most people.
That's changing now as hotels see the need for individuality that helps them survive and prosper in a competitive market, and to hopefully attract a younger clientele. Although white terry robes are still popular because of their fluffy feeling and familiarity, they're being supplemented by other colours and materials that add variety.
The robes themselves are often better fitting, with slimmer sleeves and shorter lengths. They may have hoods and coloured piping and be available in various sizes that include those for children. In short, they're more attuned to the needs and expectations of guests.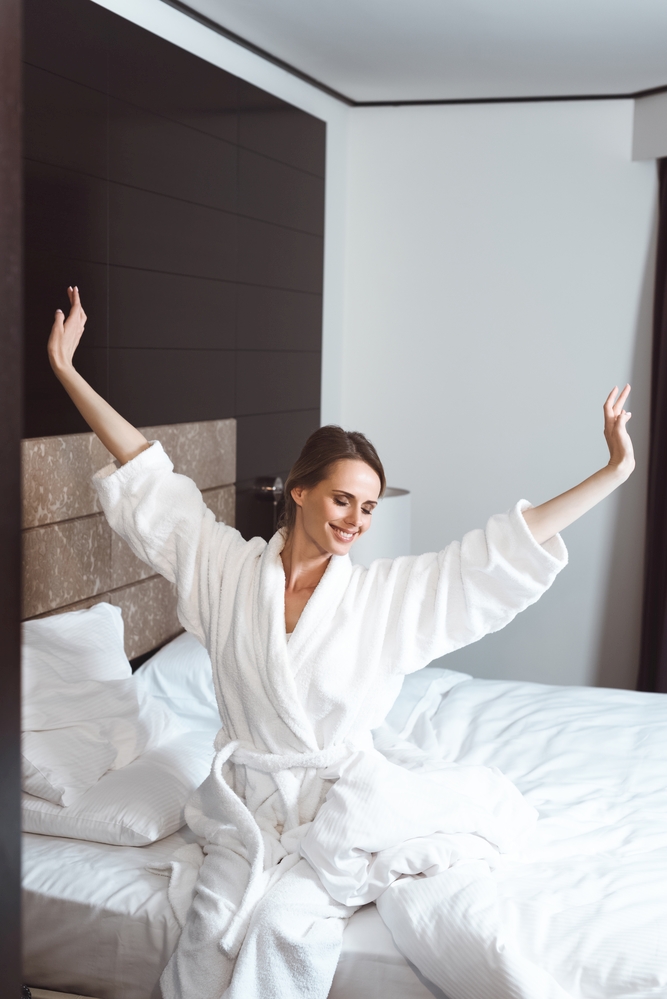 The Special Needs of Hotel Robes
Unlike domestic robes, hotel versions have to be able to withstand harsh treatment over a prolonged period.
A guest robe may be washed up to 150 times before it's replaced and has to remain looking good during that time. And commercial washing involves high temperatures and pressure that can cause some materials to wilt or, for something like polyester, to melt if drying temperatures are too high.
Many hotels are changing to other materials, particularly microfibre, that can withstand hard washing without stretching or otherwise deteriorating. Microfibre robes are also plusher and can look more elegant while also being cheaper to launder. That's because the fabric washes at a lower temperature than a terry robe and takes less than half the time to dry, which saves energy and is good for the environment.
With three sets of robes generally required for each room to ensure one set is always available while the others are being laundered, cost is also an issue. So the aim is to buy robes that are competitively priced, look great and are extremely durable and long-lasting.
The Benefits that Hotel Robes provide
Most robes traditionally bore the hotel's name, and so provided a degree of publicity. That's particularly relevant now when photographs of guests wearing a hotel's robes are likely to appear on social media and be seen by many others.
A really good hotel robe can create the potential for sales to guests who want to prolong the pleasant experience they've had. Many hotels that put time and effort into getting the right robes find their sales can easily double and triple. By selling robes at retail prices, you can recoup much of the cost of providing complimentary robes and add substantially to the hotel's income.
---
Leave a comment