Lets talk about milk
Author: Kellie Date Posted:21 March 2020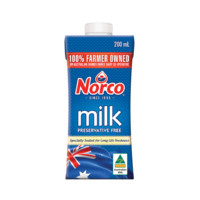 Lets talk about milk, and toilet paper, and what is going on right now.
I am writing this blog on 21st March 2020. Approximately three weeks after the toilet paper shortage started and shows no signs of resolving. Instead the panic buying has gotten worse, and supermarkets are now stripped of many dietary, cleaning and sanitary staples.
But today, I want to talk to you about milk. And what we can learn from the toilet paper situation. If you are not in the market for UHT milk, please read anyway. These examples are a perfect snapshot of what is happening at the moment.
UHT Milk. Who owns which brands? And where are the profits going?
At Bnb Supplies we stock four different brands of UHT milk; three of them well known brands. What we see right now is Devondale, Pauls & Dairy Farmers all flying out the door. We can't keep up.
Norco, not so much. This should be surprising because Norco's packaging is superior. It's screw top lid makes it much easier to pour without making a mess, and also allows it to be resealed airtight.
But it's not surprising because it's human nature to gravitate towards what we know. Or think we know. And judging by many phone conversations this week, most people think Devondale is definitely Australian owned, Pauls & Dairy Farmers maybe, and Norco is Chinese.
Actually all of this milk is produced in Australia, but who owns and distributes these brands, taking most of the proceeds?
Devondale is owned by a Canadian company called Saputo.
Dairy Farmers is owned by a Japanese company called Kirin Company.
Pauls is owned by a French company called Lactalis.
Norco is owned by a co-operative of Australian farmers. 326 members on 214 dairy farms in Northern NSW and Southern QLD.
There are a handful of distributors enjoying unusually large profits thanks to panic buying. These distributers distribute Devondale, Pauls and Dairy Farmers.
Norco is distributed by Norco.
So, when you switch your uht milk to Norco, you are sending the proceeds directly into the communities of Northern NSW and Southern Qld. Instead of overseas companies and a couple of powerful Australian distributors.
Thats the money side.
How does this relate to toilet paper? This is about the supply side.
We are in a toilet paper shortage because most of us purchase from a handful of major distributors. This means there was not adequate alternative supply lines already in place when pressure was applied.
I see the same thing happening with UHT milk. Most people are buying the same three brands, putting pressure on the supply line. We currently have a strong supply line with Norco. Lets use it and keep it that way.
IBuy Australian.
Support alternate supply lines where you can.
We are facing a financial catastrophe.
Now is the time to really think about what products you are spending your precious money on, and try to ensure those financial resources flow through to Australian communities and Australian small businesses as much as possible.
Impossible to imagine a few weeks ago. Our world is slowing down. Many of us have more time on our hands. Use it to stop panic buying and try to make the sure the money leaving your wallet will support Australian communities.
And have a lovely socially distant Saturday :-)
Kellie
---
Leave a comment